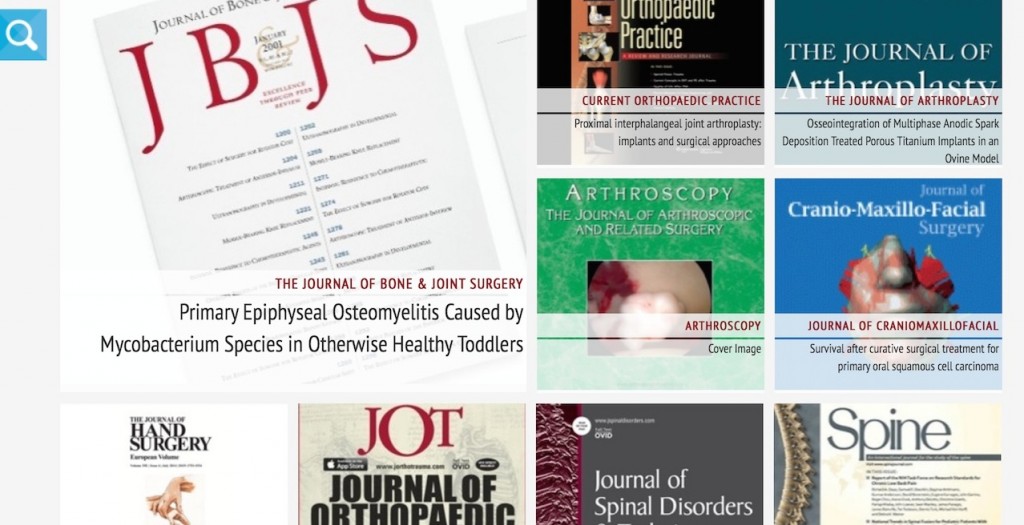 Click here to download the app!
FEATURED ARTICLES
Here you will find exclusive full text article access from our content partners as JBJS or Orthoevidence. These articles will be featured on the cover page and just one click will lead you to the full text. Come back every once in a while and discover which new articles we publish for you!
JOURNAL CLUB MUST READS
Follow what our partner journal clubs review in their meetings and stay up to date on relevant topics. Some renown journal clubs from Harvard (HCORP), the Rady Children's Specialist or Stanford Medical School share exclusively with you what they are reviewing in their meetings.
LEADING JOURNALS
This section provides you with the abstracts of 20 of the most renown leading orthopedic journals as JBJS, the Journal of Spine, the Journal of Hand Surgery and many more. Our new partner JBJS is THE number one source in orthopedics and trauma. With its offerings as JBJS Reviews, the Case Connector and Essential Surgical Techniques it offers an array of useful sources.
SEARCH ENGINE
This is one of the most powerful tools that Insights Orthopedics has to offer: create your very own personal orthopedic magazine by putting together the themes you are most interested in. Select the predefined topics or use the search field to research more your area of expertise. Reading has not been more pleasant!
FULL TEXT ACCESS
If you are associated with a university or a hospital, please use your institutional account to access full text articles. Just click on your settings, go to "Academic Affiliation" and choose your institution's library. Now you are all set to read your full text articles!
ASSOCIATION NEWS
Our long time partners AOTrauma and Efort, two of the most prestigious orthopedic and trauma association in the world, use this channel in order to provide you with the latest updates from their business.
UPCOMING EVENTS
The event calendar also shines in a new design and brings you worldwide courses and congresses right to your fingertips. Narrow down your search for the appropriate courses by using the predefined filters as specialty, event host, language, region and many more.
VIDEO CHANNEL
Watch surgery videos shared by our surgeon community, share them on social media or bookmark them so you can watch them later.
INDUSTRY NEWS
If you are interested in what is happening in the orthopedic industry, then this is the right section for you.